Online-Workshop: Transkribieren − Kodieren − Annotieren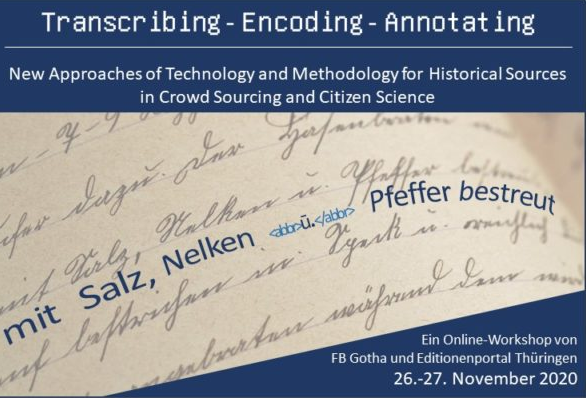 Transcribing − Encoding − Annotating: New Approaches of Technology and Methodology for Historical Sources in Crowd Sourcing and Citizen Science
Transkribieren − Kodieren − Annotieren. Neue Technologien und Methodologien für historische Quellen in Crowd Sourcing und Citizen Science 

Datum: 26. und 27.11.2020, 15.30-18.15 Uhr
Veranstalter

: Dr. Hendrikje Carius (Forschungsbibliothek Gotha der Universität Erfurt); Martin Prell (Editionenportal Thüringen)



Im Zuge des digital turns in den Geisteswissenschaften haben sich inzwischen eine Vielzahl an unterschiedlichen Transkriptionstools, digitalen Plattformen und Forschungsinfrastrukturen herausgebildet, mit denen sich Transkriptionen und Quelleneditionen erstellen lassen. Diese unterstützen in der Regel kollaborative Arbeitsprozesse von der Texterfassung über die Auszeichnung und Annotation bis hin zur Analyse des Materials unter anderem in Crowd Sourcing- und Citizen Science-Projekten. Bei der Gestaltung von Tools und Softwareumgebungen für diese Projekte werden auch je nach Art und Umfang der Einbindung von Citizen Scholars ganz verschiedene Ansätze verfolgt und technologisch umgesetzt. Während einige Tools bspw. ein gewisses technisches Know How hinsichtlich der Anwendung erfordern, priorisieren andere Transkriptionswerkzeuge eine schnelle und intuitive Nutzbarkeit. Beide Wege bieten verschiedene Vor- und Nachteile, folgen sie doch unterschiedlichen Projektzielen und Schwerpunktsetzungen.

Es ist daher unter anderem zu fragen, entlang welcher Kriterien und Prämissen die Tools und Softwareumgebungen für Citizen Science-Projekte konzipiert und umgesetzt werden. Dabei sind auch optimale Methoden und Prozesse zu eruieren, wie sich die Software kontinuierlich an die sich dynamisch entwickelnden Anforderungen anpassen lässt. Häufig wird die Arbeit mit den Transkriptionstools und Plattformen auch von dem Wunsch begleitet, die eigenen Ergebnisse mit anderen, auch heterogenen Korpora punktuell zu vernetzen oder vollständig in größere Sammlungen und Portale einzubinden, womit Fragen der Herstellung von Interoperabilität und der nachhaltigen Verfügbarkeit und Zugänglichkeit einhergehen. Zugleich sind Aspekte der Usability und damit auch der Gestaltung der User Interfaces bei gleichzeitiger Funktionsmächtigkeit der Tools zentral - sowohl für die Erstellung und dann auch für die (Nach-)Nutzungsmöglichkeiten der erzeugten Transkriptionen.

Der Workshop möchte die unterschiedlichen Akteure und Projekte zusammenführen, die Transkriptionssoftware entwickeln und nutzen. Den Schwerpunkt der Veranstaltung bildet die Nutzung der Plattformen für die Arbeit mit Korrespondenzen. Ein besonderer Fokus liegt zudem auf der Ausrichtung der Tools auf Crowd-Sourcing- und bürgerwissenschaftliche Projekte. Der Workshop ist anwendungsorientiert, bietet im ersten Teil aber explizit auch ein Forum zur Diskussion methodischer und epistemologischer Fragen.


---


Transcribing − Encoding − Annotating: New Approaches of Technology and Methodology for Historical Sources in Crowd Sourcing and Citizen Science


In the course of the digital turn in the humanities, a large number of different transcription tools, digital platforms and research infrastructures have emerged with which transcriptions and source editions can be created. These usually support collaborative work processes from text capture, encoding and annotation to the analysis of the material, for example in Crowd Sourcing and Citizen Science projects. When designing tools and software environments for these projects, very different approaches are also pursued and technologically implemented depending on the type and extent of Citizen Scholars' involvement. While some tools, for example, require a certain amount of technical know-how regarding the application, other transcription tools prioritize quick and intuitive usability. Both approaches offer different advantages and disadvantages, as they follow different project goals and priorities.



Therefore, it is necessary to ask, among other things, which criteria and premises are used to design and implement the tools and software environments for Citizen Science projects. Opti-mal methods and processes must also be determined, how the software can be continuously adapted to the dynamically developing requirements. Frequently, the work with transcription tools and platforms is also accompanied by the desire to selectively link one's own results with other, even heterogeneous corpora or to integrate them completely into larger collections and portals, which is accompanied by questions of establishing interoperability and sustainable availability and accessibility. At the same time, aspects of usability and thus also the design of user interfaces with simultaneous functional power of the tools are central - both for the creation and then also for the (re)use of the generated transcriptions.
The workshop aims to bring together different stakeholders and projects that develop and use transcription software. The main focus of the event is the use of the platforms for working with correspondence. A special focus will also be on the adaptation of tools for Crowd Sourcing and Citizen Science projects. The workshop offers a forum for discussion of methodological and epistemological questions. The lectures are planned as tandem lectures, in which developers and users reflect from their specific point of view on development and setup, functionalities and application.

Donnerstag, 26.11.2020

| | |
| --- | --- |
| 15.30-15.45 | Hendrikje Carius, Martin Prell: Begrüßung |
| 15.45-16.15 | Frank Drauschke: The Power of the European Crowd. Transcribathon Europeana  ein internationales Citizen Science Projekt |
| 16.15-16.45 | Jesper Zedlitz: 9 Jahre Dateneingabesystem DES - Erfahrungen und Perspektiven |
| 16.45-17.15 | Pause |
| 17.15-17.45 | Kate Lomax: The UX of Transcription: Omeka, Scripto and the German Heritage in Letters project |
| 17.45-18.15 | Katherine Faull, Michael McGuire: Moravian Lives Transcription Desk: A Custom Transcription Platform for 18th Century Handwritten Memoirs |
Freitag, 27.11.2020
| | |
| --- | --- |
| 15.30-15.45 | Hendrikje Carius, Martin Prell: Begrüßung |
| 15.45-16.15 | René Smolarski, Marcus Plaul: Projektübergreifende Citizen-Science-Plattform  |
| 16.15-16.45 | Yvonne Rommelfanger: Kooperative Quellenerschließung in FuD |
| 16.45-17.15 | Günter Mühlberger: Transkribus - eine Plattform für die Erkennung und Publikation historischer Dokumente |
| 17.15 | Abschlussdiskussion |



Anmeldung: Anmeldungen richten Sie bitte an veranstaltungen.fb@uni-erfurt.de.

Twitter: #TEA2020

Kontakt:
Dr. Hendrikje Carius
Tel.: +49/(0)361/737-5532


E-Mail:

hendrikje.carius@uni-erfurt.de

Martin Prell
Tel.: +49/(0)3641/944034
E-Mail: martin.prell@uni-jena.de 1